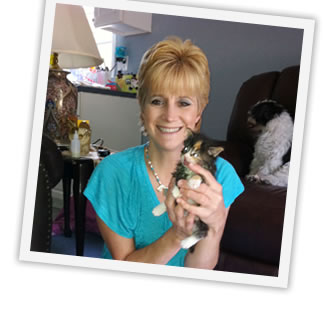 About Wagging Tails
Hi, I'm Diane Mozes, and I'm the owner of Wagging Tails Home Pet Care. I have taken care of animals my whole life and I started Wagging Tails in 2008 with the goal to provide loving care to pets in the most professional and reliable manner possible.
I am based in Enfield CT, and I provide home pet care and pet sitting services to clients in the surrounding communities of Suffield CT, Longmeadow MA, East Longmeadow MA, Somers CT, Ellington CT, East Windsor CT and Windsor Locks CT.
As a pet owner and animal lover, I understand the concerns that people face when trusting someone else to provide pet care services for the pets that they love. It's very important to select just the right pet sitter for the care of your pet and home.
I offer these services to my clients and I focus on providing lots of T.L.C. to your pet, whether you have a dog, a cat, or any other type of small pet(s). This is my Promise to all my clients.
I started Wagging Tails Home Pet Care to help keep pets happier and more relaxed, and to give pet owners peace of mind knowing that their pet will be well cared for while you're away.
In addition to home pet care services, I also provide in-home services that will make it more difficult to detect that you're away. And we'll make sure that when you return, your home is as clean as it was when you left.
So give us a call today for your FREE in-home consultation.
- Diane Mozes
Owner, Wagging Tails Home Pet Care